Frontotemporal dementia, also known as  Dementia Lewy Body (DLB), has no cure and it gradually renders people incapable of tending to their own needs. Skillfull caregiving is very important and must be carefully managed over the course of the disease. Caring for people with DLB involves adapting the home environment, schedule, activities, and communications to accommodate declining cognitive skills and parkinsonian symptoms.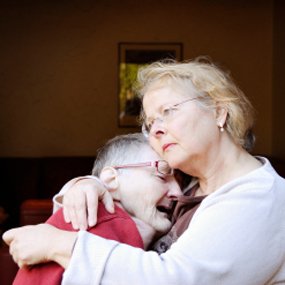 Dementia with Lewy bodies (DLB), also known under a variety of other names including Lewy body dementia, diffuse Lewy body disease, cortical Lewy body disease, and senile dementia of Lewy type, is a type of dementia closely associated with both Alzheimer's and Parkinson's diseases. It is characterized anatomically by the presence of Lewy bodies, clumps of alpha-synuclein and ubiquitin protein in neurons, detectable in post mortem brain histology.
Watch a video about frontotemporal dementia caregiving
People with DLB may swing dramatically between good days—high alertness and few cognitive or movement problems—and bad days, and the level of care they need may thus vary widely and unpredictably. Sharp changes in behavior may be due to the day-to-day variability of DLB, but they may also be triggered by changes in the schedule or home environment, or by physical problems, such as constipation, dehydration, bladder infection, injuries from falls, and other problems the person with DLB may not be able to convey to caregivers. Potential physical problems should always be checked out when a person with DLB becomes agitated.
Books and DVds about Frontal Temporal Dementia
Especially when hallucinations and delusions are not dangerous or troubling to the person with DLB, it may be best for caregivers not to disabuse patients of them. Often the best approach may be benign neglect—acknowledging, but not encouraging or agreeing. Trying to talk the DLB patient out of his delusion may be frustrating to caregivers and discouraging to patients, sometimes provoking anger or dejection.
When misperceptions, hallucinations, and the behaviors stemming from these become troublesome, caregivers should try to identify and eliminate environmental triggers, and perhaps offer cues or "therapeutic white lies" to steer patients out of trouble. Doctors may prescribe low doses of atypical antipsychotics, such as quetiapine, for psychosis and agitation in DLB. A small clinical trial found about half of DLB patients treated with low doses of quetiapine experienced significant reduction in these symptoms. Unfortunately, several participants in the study had to discontinue treatment because of side effects—excessive daytime sleepiness or orthostatic hypotension.
Changes in the schedule or environment, delusions, hallucinations, misperceptions, and sleep problems may also trigger behavior changes. It can help people with DLB to encourage exercise, simplify the visual environment, stick to a routine, and avoid asking too much (or too little) of them. Speaking slowly and sticking to essential information improves communication. The potential for visual misperception and hallucinations, in addition to the risk of abrupt and dramatic swings in cognition and motor impairment, should put families on alert to the dangers of driving with DLB.
Dementia with Lewy bodies overlaps clinically with Alzheimer's Disease and Parkinson's Disease, and is most closely associated with Parkinson's Disease.  While the specific symptoms in a person with DLB will vary, core features of DLB include:
Fluctuating cognition with great variations in attention and alertness from day to day and hour to hour
Cecurrent visual hallucinations (observed in 75% of people with DLB) and motor features of Parkinson's.
 Suggestive symptoms are rapid eye movement(REM)-sleep behavior disorder and abnormalities detected in PET or SPECT scans.
Parkinson's features could include:
Shuffling gait
Reduced arm-swing during walking
Blank expression (reduced range of facial expression)
Stiffness of movements
Ratchet-like cog-wheeling movements
Low speech volume
Sialorrhea
Difficulty swallowing
Tremors are less common in DLB than in Parkinson's disease. DLB patients also often experience problems with orthostatic hypotension, including repeated falls, syncope (fainting), and transient loss of consciousness.
Caring for a person who suffers from this type of dementia requires knowledge and skill. Get the information and education you need to give the best quality care to your loved one suffering from dementia at CertifiedCare.org.
SOURCES:
Wikipedia
-Van Gerpen, Jay A.; Assn, Lewy Body Dementia (2007), New Trends in Lewy Body Dementia, from "The Many Faces of Lewy Body Dementia" series at Coral Springs Medical Center, FL.
-Scotland, Alzheimer; Dementia, Action on, Dementia with Lewy Bodies
-Weintraub, Daniel; Hurtig, Howard I. (2007), "Presentation and Management of Psychosis in Parkinson's Disease and Dementia with Lewy Bodies", American Journal of Psychiatry 164 (10): 1491–1498, doi:10.1176/appi.ajp.2007.07040715, PMC 2137166, PMID 17898337
-Association Inc., Lewy Body Dementia (2007), "What is Lewy Body Dementia", Slideshare
-Lennox, Graham; Lewy-net, Nottingham Medical School, Dementia with Lewy Bodies
-Stewart, Jonathan T.; Assn, Lewy Body Dementia (2007), Difficulties in Diagnosing Lewy Body Dementia, from "The Many Faces of Lewy Body Dementia" series at Coral Springs Medical Center, FL.
-Ferman, Tanis J.; Assn, Lewy Body Dementia (2007), Behavioral Challenges in Dementia with Lewy Bodies, from "The Many Faces of Lewy Body Dementia" series at Coral Springs Medical Center, FL.